For more than 50 years, the Wharton Seminars for Business Journalists have provided members of the media insight from Wharton faculty into topics such as financial markets, accounting principles, corporate strategy, and the global economy.
Today, the Seminars have become known as the premier business education program of its kind. It has offered nearly 3,000 journalists in print, broadcast, and electronic media the opportunity to expand their knowledge of business, increase their exposure to leading experts, and broaden their perspectives in a stimulating environment.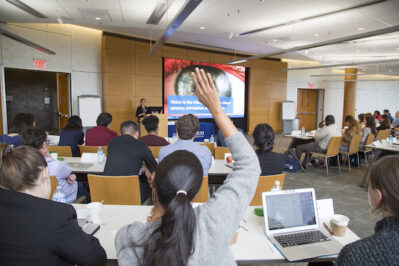 How can I access the sessions?
Click on the "Sessions" tab, then click on the headline of the session you'd like to join. You will then see a landing page which will include either a video to watch or a link to join a live Zoom session.
What's the difference between a webinar, interactive and Q&A session?
We are offering a mix of content for this program. Webinar sessions are pre-recorded, but will only be available during the times listed on the agenda. Q&A sessions will feature a live discussion with a faculty member via Zoom. Interactive sessions are Zoom classrooms where participants will learn from and interact with the faculty member live over the course of the session.
Will sessions be available to view after the Seminars program concludes?
No, the videos will not be available after the conclusion of the Seminar on Tuesday, October 27. However, participants will have access to most presentations from the sessions after the conclusion of the program.
Can I watch the sessions on demand, at my own pace?
While webinar sessions are pre-recorded, we strongly recommend that you watch the sessions during the time allotted so you do not fall behind schedule and miss live content.
Where can I find the faculty presentations?
When you click on a session, faculty presentations will be available for download under "Files." You can also access faculty members' presentations by clicking on their biography on the "Speakers" tab.
How can I network with other participants?
There are several ways to interact with fellow participants throughout the program:
In each webinar session, there will be a chat panel to the right of the video that allows you to interact during the session. During Zoom sessions, participants can interact with each other via Zoom Chat.

On Monday from 3:30-4:30 pm, we will host a networking happy hour where we encourage you to grab your drink of choice and mingle with fellow attendees via Zoom Breakout rooms.

During lunch breaks, we will provide access to an optional Zoom session for those interested in joining.

Participants can also reach out to and connect directly with fellow attendees. Contact information can be found on the "Participants" tab.
Are the lunch Zoom sessions mandatory?
No, they are optional and are provided as additional opportunities to network with participants and Wharton Media Relations team members.
How can I get in touch with faculty members?
For follow-up questions or future interview requests, please contact the Wharton Media Relations team.