Fees paid by participating journalists cover only a portion of the cost of the Wharton Seminars for Business Journalists. The Wharton School and generous corporate and foundation sponsors underwrite honoraria for faculty as well as the costs of classroom facilities, materials, and meals.
Among the benefits of sponsorship:
Association with world-renowned media outlets and the Wharton School.
Representatives of participating companies are given recognition during the program and are the distinguished guests of honor at the "Sponsors' Dinner," held during the program.
Organizations are given full recognition in promotional materials, including a link from the Seminars Web site.
Contribution counts toward full participation in the Wharton Partnership Program.
Become a Sponsor
We invite you to support the program and become a sponsor. If you would like to learn more, please contact us directly at communications@wharton.upenn.edu or download the sponsorship brochure.
$7,500 "Sponsor"
At this level your organization will receive:
Recognition in all seminar publications, including course materials, the sponsorship brochure, Philadelphia dinner program booklet and the Seminars' Web site.
The option of submitting a quote relevant to business journalism from your company's spokesperson for use either on our Web site or in our literature.
The chance to send two representatives to attend any two sessions, as well as the cocktail reception and Sponsors' Dinner. This is an excellent opportunity to network with journalists from top national and international news organizations.
$15,000 "Partner"
In addition to the benefits provided at the $7,500 level, your organization will receive:
The option of exclusively hosting a luncheon, dinner or cocktail party during one of the programs (on a first-come-first-serve basis).
Recognition as members of the Wharton Partnership, which provides alliances with researchers, increased visibility on campus and a competitive recruiting edge.
The option to designate monies to a sponsors' tuition fund for under-represented journalists groups or to national and international journalists who otherwise could not afford this educational experience.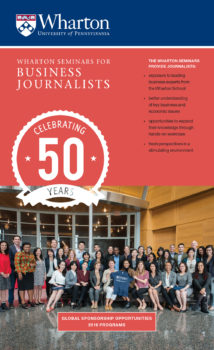 Contact Us for Sponsorship Opportunities
Please call or e-mail to learn about our exciting sponsorship opportunities.
Communications Office
 (+1) 215.898.8036
communications@wharton.upenn.edu